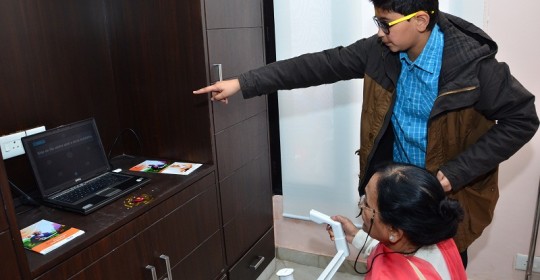 The ableX system is a clinically proven combination of therapy games and the versatile ableX handheld controller, designed to accelerate rehabilitation of your arms and hands after a stroke.
Set it up in minutes on your computer, and ableX quickly forms part of your independent daily routine, helping you to a better quality of life.
Our suite of computer-based games designed for recovery after a brain injury. The versatile ableX handlebar. Easy to follow instructions and exercise routines. The ableX system has helped stroke people from the acute ward in hospital to self-care at home. If you can recognise simple shapes on a TV or computer screen and sit while supported, you can benefit from using ableX.
How does it work?
The ableX software and control devices work together, providing high intensity task-based rehabilitation for stroke-affected arms and hands.  Our therapy games are fun and easy to play on any Windows computer, and they're designed to provide progressive recovery for an injured brain.  The ableX system stimulates neural plasticity, the brain's ability to re-establish damaged neural pathways.
What do I need to get started?
ableX Pro requires a desktop or laptop computer with the Windows 7 operating system or better.  No internet connection is required.
Why the ableX system?
Recovering everyday use of your affected arm is often not a focus of rehabilitation after a stroke or brain injury. The best recoveries happen when your rehabilitation is independent, high intensity and task-based. Achieving this is a challenge with conventional one-to-one therapy.
The ableX system enables you to include arm and hand recovery as part of your daily routine, up to 1000 repetitions per session, without you even realising you're doing it. By practicing independently and making it fun, you'll get better value from your rehabilitation professional, and your stroke recovery will be faster.
ableX aims to stimulate neural plasticity, the brain's ability to form new neural pathways after a stroke or brain injury, and encourage long term recovery habits. The ableX Pathway service for health professionals provides prescription support and tailored training routines based on routine observation and patient goals.
Is it proven?
Stroke participants in clinical trials of both the ableX and ableM devices recorded clinically significant improvements in their range of movement after just a few hours of prescribed use, and they also noticed improved concentration, balance, co-ordination and wellbeing.  These benefits were at least as significant as those recorded in trials of robotic therapies costing many times more than the ableX system.
Originally designed for people to use independently at home, the ableX system is now used by specialists in practicing healthcare settings from acute care right through to home care.
More Articles
This program is devised for the people who cannot go for Radical Surgery because of different reasons,…

The cervical spine (neck) is a well-engineered, strong structure that delicately houses the spinal cord…
Detoxification is more widely used treatments and concepts in alternative medicine. It is based on the…